Dental Implants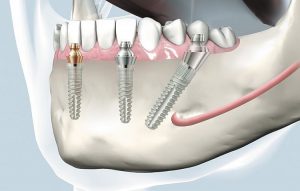 You can rest assured we use the highest quality dental implants approved for use in the UK. The system we use is Bredent UK . Bredent group UK employees have over 100 years combined experiences within the dental industry. Over 95% of all Bredent products are manufactured on site within their factory at Senden, south Germany. Bredent GmbH & Co have been producing dental appliances for over 38 years and supply over 120 countries in the world.
What are dental implants?
The use of modern implants can be life changing. They can be used individually to replace a lost tooth or grouped together to help rebuild a whole smile.  Dental implants are tiny screw-like posts that are attached to your jawbone and used to secure an artificial tooth. They're typically made of strong and lightweight titanium or titanium alloys. Over time, dental implants actually become fused to your bone, which makes them exceptionally sturdy and durable.
How Long Do Dental Implants Last?
Dental implants can be an excellent option for replacing missing teeth. Not only do they allow for the attachment of realistic-looking artificial teeth, dental implants are designed to last a lifetime. Best of all, the care they require is no different than natural teeth.
What is the Dental Implant Procedure Like?
After you've had your initial consultation and we've agreed your personal treatment plan, we will start your treatment.
The dental implant procedure requires minor surgery that can be performed in my dental clinic. It usually necessitates a local anesthetic to numb the selected area of your mouth. After the initial procedure there will be minimal discomfort which is managed by regular painkillers. The entire process takes place over the course of 3-6 months because the implants require time to heal. We may need to give you a temporary crown, bridge or denture to wear until we're able to attach the artificial tooth to your new implant. You may experience some discomfort for a few days after the surgery.